Finsbury Park Mosque arson attempt a hate crime, say police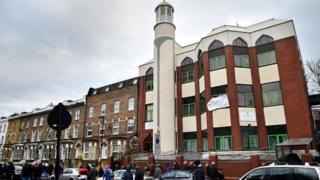 An attempted arson attack at Finsbury Park Mosque in London is being treated by police as a hate crime.
A man was filmed on CCTV trying to set fire to the mosque at 20:25 GMT on Friday, before fleeing the scene on a moped.
Scotland Yard said the arson attempt in St Thomas' Road was reported on Saturday morning.
The suspect was described as a white man who was wearing a hooded top. No arrests have been made yet.
"At this early stage police are treating the incident as a hate crime," a Met Police spokesman said.
An appeal for witnesses has been made.