Mother and partner jailed for Ayesha Ali killing have sentences reduced on appeal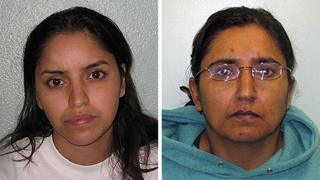 A woman and her partner jailed for killing an eight-year-old girl have had their sentences reduced on appeal.
Ayesha Ali was found dead in her east London home with more than 50 injuries, including a bite-mark, in August 2013.
The girl's mother, Polly Chowdhury, 35, will now serve 10 years rather than 13 years in prison for manslaughter.
Her lover and co-defendant, Kiki Muddar, 43, has had her sentence reduced from 18 years to 15 years by the Court of Appeal.
'Manifestly excessive'
Sitting at the appeal court in central London, Lord Justice Treacy, Mrs Justice Carr and Mr Justice Kerr agreed that Muddar's sentence was "manifestly excessive" before reducing it by three years.
In March, Judge Christopher Moss QC told the Old Bailey that Muddar's sentence should reflect the "lion's share" of responsibility for the misery inflicted on Ayesha Ali.
The eight-year-old was found in her bedroom in Chadwell Heath, east London with injuries including a bite-mark and carpet burns.
Judge Moss said Ayesha was subjected to a "life of cruelty and misery that defies belief" in the months before her death.
Jailing Muddar, he described her as a "manipulative and wicked" woman who had brainwashed her lesbian lover into believing the child was possessed.
The trial heard that Muddar created a fantasy world of alter egos on Facebook and text messages to seduce Chowdhury and turn her against her daughter because she saw her as a threat.
Mrs Justice Carr said the reduced sentences were not intended to undermine the gravity of the crimes.
She said Ayesha "did not deserve to die as she did" and it was proper that the women should serve what remained lengthy prison sentences.