'Cult leader compared himself to Harry Potter'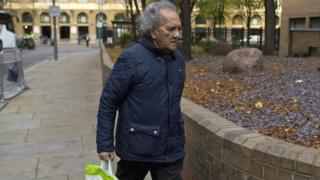 The daughter of a man accused of running a "brutal communist cult" told a court how she was held captive by her father who claimed he had magic powers.
Aravindan Balakrishnan, 75, saw himself akin to Harry Potter and the hero Aragorn from Lord of the Rings, Southwark Crown Court heard.
The woman alleges she was born into the collective and held for decades.
Mr Balakrishnan, denies 16 charges, including rape, indecent assault, false imprisonment and mistreating a child.
The woman, who cannot be identified, told the jury Mr Balakrishnan saw himself as immortal, all powerful and destined to take over the world.
He allowed her to read the Harry Potter books and Lord of the Rings trilogy, she said, because he identified himself in some of the characters.
Via video link she said: "He thought Harry Potter is like him, Harry is like Ara. It's magic and things. Harry Potter was a way to introduce his ideas to the children.
"He said that when he takes over the world it will be like Aragorn in Lord Of The Rings coming to Middle Earth, destroying Sauron.
"I suppose in his mind Sauron was like America and the West. He would get rid of them, there would be a war and he would destroy them."
She said she was told: "Bala [Mr Balakrishnan] is the natural centre and basically he is god and he knows everything. He will never die."
The woman's existence was revealed in 2013 when she made a call from a Brixton flat to a charity saying Mr Balakrishnan and his followers had kept her captive for decades.
She said instead of a family she had grown up in a communist collective and taught to worship its leader who would beat her with a ruler or a stick when he was angry.
She was also subjected to "withering" criticisms and denouncements, along with other members of the commune.
The court learned the woman's mother was also in the collective and loyal to Mr Balakrishnan.
Her daughter told the court she was told to call her mother "comrade" but there was no affection between them as she "would be extra unkind... getting me into more trouble".
"I really didn't like her. She scared me like hell," the court heard.
"[She] was trying to prove she was not kind to me. The idea was all the people in the collective were encouraged to break away from their family," she added.
On Wednesday the court heard, she was told her father had died, but later found out that was a lie.
In 1997, her mother Sian died in an unexplained fall from an upstairs window in one of the many houses the collective occupied.
The trial continues.