Call to scrap Gravesham Thames crossing option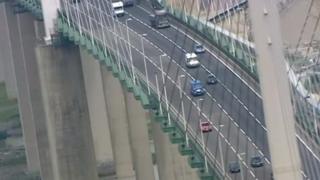 More than 50 councillors have written to the transport secretary asking him to scrap plans to build a new River Thames crossing east of Gravesend.
The letter to Patrick McLoughlin claims the crossing would add to congestion and damage the environment and the health of Gravesham residents.
The government is considering two possible crossing sites - Gravesham or near the existing Dartford crossing.
The Department for Transport (DfT) said it was assessing the options.
Kent County Council, Ebbsfleet Development Corporation and Kent Invicta Chamber of Commerce are all in favour of Gravesham.
---
Options for a new Lower Thames Crossing
The government announced in July 2014 it was looking at two possible locations for a bridge or tunnel across the River Thames between Kent and Essex
Near the existing Dartford Tunnel and QEII bridge crossing between Dartford and Thurrock
A new link connecting the A2/M2 in Kent with the A13 and the M25 between junctions 29 and 30 in Essex
The new crossing, which will cost between £1.2bn and £3.4bn, is due to open by 2025
---
The open letter to Mr McLoughlin is signed by Gravesham Conservative MP Adam Holloway as well as Gravesham Borough Council leader John Cubitt, deputy leader David Turner and a number of other district and parish councillors.
Mr Cubitt said the council had always objected to the Gravesham option, which will cut through green belt land.
"We don't believe it has been demonstrated that it's going to bring about a solution to traffic jams," he said.
But Conservative MP for Dartford Gareth Johnson said the new crossing had to provide an alternative to traffic congestion at Dartford.
"We could put 100 crossings at Dartford but it would still create a pinch-point," he said.
Highways England is due to report to the Department for Transport by the end of the year after working on detailed plans for both options.
A DfT spokesman said: "We are committed to a new Lower Thames Crossing which will be a crucial part of this country's road network and bring huge economic benefits to the South East.
"It is vital that we make the right choice for the location, which is why we are carrying out a detailed assessment of the remaining options.
"This will lead to public consultation on a proposed solution in due course."