Suitcase murder accused Tomasz Kocik admits dumping body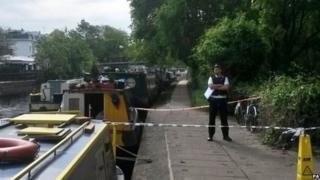 A man has admitted in court that he dumped his girlfriend's body in a canal but only after finding her dead following drug-fuelled sex sessions.
Tomasz Kocik, of north London, told the Old Bailey he and Marta Ligman, 23, had been taking amphetamines and having sex while at home between 24 and 28 April.
The 38-year-old, of Buckingham Road, Harlesden, who denies murder, said he found her dead on 29 April.
Ms Ligman was found dead in a suitcase in the Grand Union Canal 10 days later.
Speaking through an interpreter, Polish national Mr Kocik told the jury the couple regularly took drugs together, watched porn and had violent bondage sessions.
'Started resuscitating her'
He said they had spent four days at home taking the drugs and having sex, before he went to work on 29 April.
Upon returning home that evening he said he found Ms Ligman lying on the sofa and realised she did not have a pulse.
"I put her down on the floor and started resuscitating her. I was in shock," he said.
Instead of calling emergency services though, Mr Kocik told the court he only told his neighbour that "Marta is gone".
When asked by his lawyer Jeremy Dein QC what he believed had killed Ms Ligman, Mr Kocik said it was "because we had been taking lots of amphetamines for the last few days."
CCTV footage
He said he had "felt terrible" about her death "because I did not stop her from doing that".
That night, Mr Kocik said he got an old suitcase from the loft and put her body inside before going to the canal early the next morning.
He also admitted it was he who was captured on CCTV taking the suitcase to the canal.
When asked why he had dumped the body, Mr Kocik said "I only remember I thought I would be in trouble because we had been taking drugs and I would be blamed for that."
The trial continues.