Police called after pranksters dressed as traffic cones block road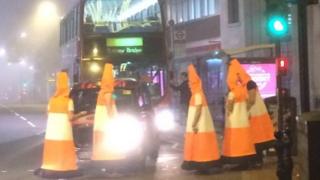 Five pranksters who dressed up as traffic cones have been investigated for "blocking the road like traffic cones", police have said.
Kingston Police in south-west London tweeted a picture of a call-out their officers attended on Halloween.
Five giant orange-clad people were reportedly disrupting traffic in Kingston town centre at about 04:00 GMT on Sunday.
Police described the incident as "very interesting".