National Gallery strike: Staff return to work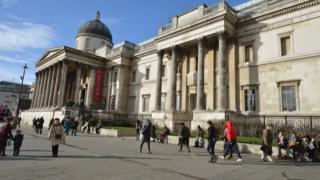 Staff at the National Gallery are returning to work after strike action in a dispute over privatisation.
Members of the Public and Commercial Services (PCS) union at the London gallery had been on indefinite strike in a row over privatisation of visitor and security services.
The PCS said it had been unable to prevent the privatisation going ahead but it had reached a deal.
The National Gallery said it was "delighted" at the reopening.
In a statement, the gallery said: "The suspension of the current strike action is following positive discussions with the PCS union, and pending further talks."
The union said the deal with the gallery and contractor Securitas included protection of terms and conditions and a return to work for the union's local official, Candy Udwin.
Employees will also now be paid the London living wage, the PCS said.
Members went on indefinite strike on 11 August and since February have taken more than 100 days of strike action.
PCS general secretary Mark Serwotka said: "We still do not believe privatisation was necessary but we will work with the new company and the gallery to ensure a smooth transition and, importantly, to ensure standards are maintained at this world-renowned institution."
The dispute followed an announcement by the National Gallery to appoint Securitas as its partner to manage some visitor-facing and security staff services.