Charity gives night bus tickets to young homeless people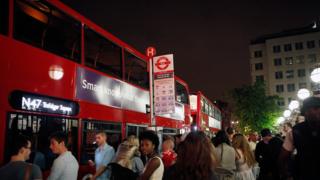 A charity has said it gives tickets to homeless young people so they can sleep on London's night buses if no alternative accommodation is available.
The New Horizon Youth Centre said it gave travelcards to at least one person a week.
The charity's director said the move was a last result due to a "dearth" of hostels and emergency accommodation.
Transport for London said it was aware of the issue. The London Mayor said he took homelessness "seriously".
Shelagh O'Connor, director of New Horizon Youth Centre in Euston, said: "It's safer, we think, for a young person to be on a bus than rough sleep on the streets of London."
The charity, which is open seven days a week, said young people who had to sleep on the night bus would often return to them the next day where the charity would help find them accommodation.
The charity said local authorities concentrated on housing young people under 18.
Ms O'Connor said: "There has been a dearth of hostel accommodation and emergency accommodation to put young people into.
"We do not want to put young people in an unsafe environment and advise them if they do feel unsafe to talk to the driver.
"We are not encouraging this. This is our last resort when all other options have been exhausted."
A spokesperson for the Mayor of London said: "Any person sleeping rough in London is a cause for concern, and something the Mayor takes extremely seriously.
"He invests £9m a year in vital services that help rough sleepers off the streets, as well as funding and maintaining hostels where vulnerable people can get their lives back on track."
Transport for London said it was aware of the issue of homeless people on the bus network.
A spokesperson said: "We continue to work in partnership with a number agencies including Thames Outreach and the London Ambulance Service to provide people with the help that they need."