Tory London mayoral selection process 'chaotic compared to Labour'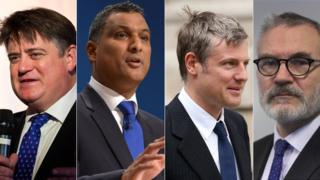 The process to select London's next Conservative mayoral candidate has been branded "chaotic" by a senior figure involved in one of the campaigns.
Online voting in the mayoral contest runs until 30 September.
Like Labour, the Tories said they wanted to appeal more widely than usual and they adopted a form of open selection process which went beyond party members.
But there has been little publicity for the Tory contest outside the party.
Registered voters will be choosing between Zac Goldsmith MP, Syed Kamall MEP, deputy mayor for policing Stephen Greenhalgh and Assembly member Andrew Boff.
For £1, anyone on the electoral roll could register to vote. Registration ended on 14 September.
'Members revolt'
Labour's leadership and mayoral selection processes have both caught the public imagination, prompting a surge in people signing up to vote.
But, at least one of the Conservative candidates is unhappy with the way the race has been run, and a member of his campaign said: "The whole process looks chaotic compared to the Labour selection."
There were reports last week a technical glitch may have led to the exclusion of some people wanting to register.
"Tory members are in revolt with complaints of system crashes, lost registrations and criticism of the lack of effort put into marketing the open primary to the wider public," said the source.
One Conservative Party member, journalist Ned Donovan, told BBC London he had not received a ballot until he contacted the party to ask.
'Confusion'
He said he knew others in same situation, or who had received more than one.
"It seems the Tories have tried to emulate Labour by opening it up to new members and that's caused some confusion," Mr Donovan said.
Ballots were issued by the Electoral Reform Society on 17 September.
For £1, anyone on the electoral roll could register to vote. Registration ended on 14 September.
Labour's membership in London was 40,000 at the time of the general election in May and swelled to 114,000 - including registered and union supporters - by last month.
That process was not problem-free either, with David Lammy claiming on the BBC's World At One that one in five people said they they had not received a ballot.
But, nearly 90,000 actually voted in the contest won by Sadiq Khan, and there is speculation that the number registering to vote in the Conservative contest has been disappointing for party officials.
It threatens to give Labour the chance to claim early momentum from a bigger mandate for their choice.
'Rigorous system'
Having watched on as Labour attempted to weed out "infiltrators", the Conservatives could face a different issue: explaining why there hasn't been much interest in their selection.
The Conservatives have not responded to requests for information about how many people have registered to vote, the current size of the membership of the party or when the winning candidate will be revealed.
It is understood that may happen on 30 September.
A spokesman for the party said: "The Conservatives are once again putting the power in the hands of Londoners to help us choose our candidate for London Mayor.
"There is a rigorous system in place and the ballot is being administered and overseen by an independent organisation."