Murder investigation after death of man shot in 2002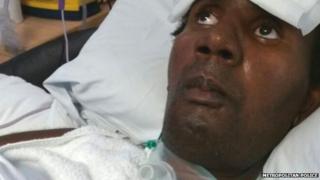 A man who was shot more than 13 years ago in east London has died from his injuries.
Marvin Couson, 39, was wounded at the Lime in London bar in Shoreditch in May 2002. He was left unable to communicate or leave his bed, and died on 8 August.
Police have launched a murder investigation and appealed for witnesses to come forward.
Mr Couson, who suffered injuries to his internal organs, was cared for at the Royal Hospital for Neuro-Disability.
About 600 people were at the bar on 12 May 2002 when police were called to reports of gunfire. They found Mr Couson lying on the ground outside with a gunshot wound to the chest.
A man was arrested during the police investigation, but later released with no further action.
Det Ch Insp Noel McHugh said: "For 13 years Marvin's family have been at his bedside and now, tragically, he has succumbed to the injuries he suffered.
"We have launched a full murder investigation and, despite the passage of time, are committed to finding the person who shot Marvin that night."
He added: "We know there are potential witnesses who did not speak to police at the time and I would ask them to now please come forward with any information, no matter how small. Do not assume that someone else will contact police."
Until a change in the law in 1996, a murder was only deemed to have been committed if the victim died within a year and a day.