Tube strike set to go ahead in night service row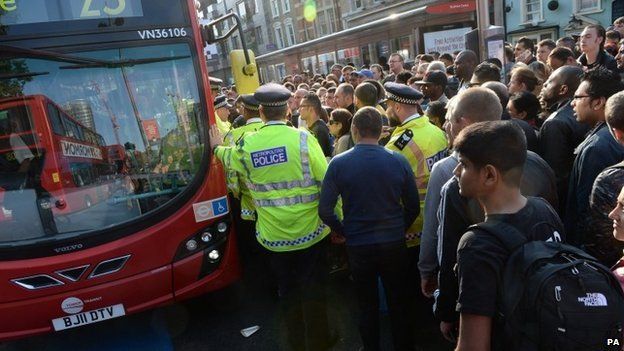 A fresh 24-hour Tube strike is due to start from 18:30 BST following the failure of talks to resolve a dispute between unions and London Underground.
All stations are expected to close, with the four main Tube workers' unions supporting the industrial action.
Drivers are unhappy at pay and conditions offered for working on the new night service.
London Underground (LU) apologised for the disruption, saying the latest offer aimed at improving work-life balance.
Mayor Boris Johnson called the offer "incredibly generous", said he would not authorise any more money being added to it, and said he was "not fussed" about the night service starting on 12 September as planned, as long as it started in the autumn.
One official from the Rail, Maritime and Transport union (RMT), told BBC London members would "escalate action" in the run-up to the scheduled start of the night Tube service.
The latest strike will be the second time Tube stations across the capital have closed in the current dispute, following a 24-hour walkout on 8-9 July.
Some 250 extra buses will be laid on during the strike, extra river services will also run during peak hours and extra cycle hire hubs will be added in some areas, TfL said.
LU said the new offer included a 2% salary increase this year, an extra £200 per night shift for drivers for a limited time and a £500 bonus for night Tube staff when the service is introduced in September.
Aslef, the RMT and the Transport Salaried Staffs Association (TSSA) have all turned down the offer.
Unite previously said its action "would go ahead".
Mayor Mr Johnson said the unions needed to put the "incredibly generous" offer to their members.
He said: "It is crazy, when you have the technology, not to put a 24-hour service in a 24-hour city."
Speaking during a visit to military veterans at the Royal Hospital, in Chelsea, Mr Johnson said he was "not fussed" about the new night Tube service starting as planned on 12 September.
He said: "I want it starting in the autumn - what I am fussed about is the offer being put to union members.
"I am not going to authorise any more money. Most people would recognise that this is a very generous deal."
BBC transport correspondent Richard Westcott
Unfortunately, for anyone hoping these strikes will be over soon, I'm not hearing great things about the way the talks are going.
Gone are the days when it was a big haggling session, some of it unofficial, maybe over a quiet drink.
London Underground is trying to put negotiations on to a more official footing. Like in other industries. I get the impression that's caused a clash of cultures.
Meanwhile, the unions say the bosses have been aggressive and bolshie, throwing down last minute "take-it-or-leave-it" deals that don't address their concerns.
London Underground says the RMT union keeps changing its negotiating team and has refused to talk at all in the last few days.
You get the idea, it's been fractious. People who don't know each other that well don't seem to be getting on. Both sides think the other is being unreasonable, which doesn't bode well for sorting this out before night Tubes are meant to begin running, on 12 September.
RMT assistant general secretary Steve Hedley told BBC London: "We will escalate action, because these 24-hour strikes have not brought management to the table in a reasonable fashion."
He described LU's proposed rotas as "draconian" and warned they would lead to the "absolute destruction of work-life balance".
Mick Whelan, general secretary of the train drivers' union Aslef, said the union supported the night Tube and the capital needed it, but its members needed assurances on working conditions.
"Our members have rejected the latest offer from the company because they are forcing through new rosters without agreement and offer no firm commitments on work-life balance for train drivers," he said.
"We remain prepared to talk at any time to try to find common ground but by forcing these new rosters on train drivers and acting outside of our agreed way of working senior management are making it even harder to resolve this dispute."
London Underground said they had offered an "extremely fair revised" deal and drivers would have the same number of weekends off and staff would not be asked to work more hours.
LU's managing director Nick Brown said: "The unions rejected this fair offer outright and instead demanded more money, the hiring of even more staff - including for ticket offices that customers no longer use - and a 32 hour, four day week.
"No employer can afford to meet those sorts of demands."
The Met Police said additional officers would be deployed to key locations in London, including bus networks and train stations, for the whole of the Tube strike.
Questions have been raised over whether the dispute will be resolved in time for the night service to begin as planned in September.
The RMT has also said it will ballot engineers working for Tube Lines for strikes over the night Tube dispute.
The Tube Lines engineers maintain the Piccadilly, Northern and Jubilee Lines.
Key points of the dispute
The RMT, TSSA, Unite and Aslef unions say the dispute with London Underground (LU) is about workers' pay and conditions associated with the new night Tube working
Union members have voted 9:1 in favour of strike action. Aslef said 81% of its members responded to the ballot
The unions have rejected a deal including a 2% average pay rise for all Tube employees plus a £500 launch bonus
The unions say they want Tube workers to be fairly compensated for night working which has been linked to poor health
LU says it put forward an "extremely fair revised offer"
LU says it is hiring 137 more train operators to work on the Night Tube, which would result in existing workers doing "a few extra nights per year within the existing working week"
LU says no-one was being asked to work more hours than at present
The offer includes a pay increase in 2016-17 of RPI or 1%, whichever is greater, a £500 bonus in February 2016 after the completion of customer service modernisation plans
Night drivers will also receive an extra £200 per Night Tube shift during a short transition period, after which they will have the choice whether or not to work Night Tube shifts, under LU's latest offer.
How are you preparing for the tube strike? Have you made alternative plans? Please let us know by emailing haveyoursay@bbc.co.uk with your plans.
Related Internet Links
The BBC is not responsible for the content of external sites.