Inquest: Friend of Pete Doherty died from overdose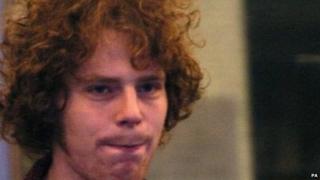 A close friend of The Libertines singer Pete Doherty died following a heroin overdose, an inquest heard.
Alan Wass, a guitarist who had played with Mr Doherty's rock band, died two months after he fell through a glass window and seriously injured his arm.
The 33-year-old was found unconscious in his flat in Ladbroke Grove, London, after injecting a fatal amount of the drug, the inquest heard.
He was taken to hospital where he died 11 days later, on 26 April this year.
Westminster Coroner's Court was told Mr Wass had been treated for alcohol and drug abuse in the past but had repeatedly relapsed.
Coroner Dr Fiona Wilcox said Mr Wass was "a talented guitar player and songwriter by profession".
Paramedics called to the Ladbroke Grove flat gave evidence at the inquest.
They said Mr Wass was lying on the living room floor.
'Noticeable' needle wound
There was a "noticeable" needle wound in his arm and a syringe lying nearby, said paramedic Caroline Deas.
She added: "There were several males present. They said he had taken £15 worth of heroin, which he had not done in a while, which was why he had such a strong reaction to it.
"They said he had taken it around 30 minutes prior to our arrival; he had been dancing around with his guitar beforehand."
Mr Wass died due to starvation of oxygen to the brain and a heart attack caused by the overdose, a post-mortem found.
He had struggled with addiction to heroin, cocaine, cannabis and alcohol, the inquest heard.
Dr Wilcox said Mr Wass also had depression, hallucinations and "disturbing dreams or nightmares and wasn't sure if he was sleeping or awake".
The hearing continues.