BT Tower revolving restaurant to re-open for two weeks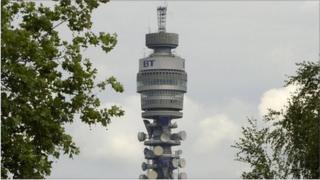 The revolving restaurant at the top of the BT Tower in central London is to open to the public for two weeks to mark the building's golden anniversary.
The tower was opened in 1965 by then Prime Minister Harold Wilson and the restaurant opened the following year.
The tower was closed to the public in 1971, with the restaurant shutting in 1980.
BT will hold a ballot for members of the public to eat at the restaurant while overlooking London's skyline.
Gavin Patterson, BT Group chief executive, said: "I'm delighted we're able to re-open the restaurant to the public.
"The BT Tower was a unique feat of engineering when it was first built and it remains an important and much-loved building today."