Hackney shops blaze tackled by 70 firefighters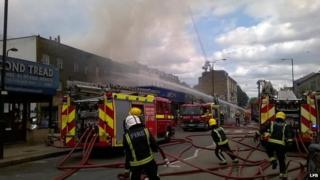 A major fire that broke out in a row of shops in east London was tackled by more than 70 firefighters.
London Fire Brigade said the blaze started at a joinery shop in Yorkton Street in Hackney at around 13:00 BST. It was under control by 18:00 BST.
A man, thought to be in his 50s, was taken to hospital suffering from burns and smoke inhalation, London Ambulance Service said.
Photos showed thick black smoke billowing from the fire.
Scotland Yard said nine people were in the building when the fire started. All were escorted from the premises by firefighters.
An LFB spokeswoman said: "Thick black smoke from the fire can be seen from miles and residents are advised to keep their windows and doors closed, if affected.
"The cause of the fire is not known at this stage."