£25m Old Street plan 'not safe enough' for cyclists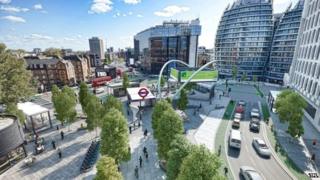 A £25m plan to transform Old Street roundabout, in east London, is not enough to make it safer for cyclists, according to a campaign group.
Transport for London (TfL) has approved the plans which will turn the roundabout into a pedestrian square.
But London Cycling Campaign (LCC) said the plan did not go far enough and it had requested the roundabout be replaced with crossroads.
TfL said work was due to start next year following strong public support.
The plans, part of a £4bn road modernisation scheme for London, include new cycle lanes, segregated where possible, and two-way traffic reintroduced at the gateway to the area known as Tech City.
Rosie Downes, from LCC, said it welcomed the "ambition to make it safer for cycling" but added: "We have concerns that the plans are not safe enough and will not provide the safe and inviting space for cycling that this location should offer."
She said the planned cycle tracks did not offer enough space for the current number of cyclists, let alone the future, and would force cyclists on to a busy road.
"Crossroads would make it a much simpler layout and make it easier to provide protected space and improve the area for pedestrians and cyclists," she said.
TfL said cyclists made up a third of the vehicles at the roundabout in the morning rush hour and more than 1,000 responses were received in favour of the redevelopment plan.
Leon Daniels from TfL said: "The plans will mean real safety improvements for pedestrians and cyclists, who are currently involved in 80% of all accidents at Old Street."
Claudia Webbe, from Islington Council, said: "The Old Street roundabout is dangerous and obsolete, and we've lobbied for its removal for many years.
"There are a number of outstanding issues and concerns about the detail of the design and we will work closely with TfL and others on behalf of our residents to help ensure these are resolved."