Challenge to £1.3bn Shell Centre redevelopment refused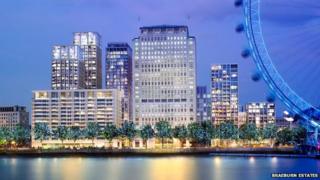 A further legal challenge against a £1.3bn redevelopment on London's South Bank has been rejected in court.
Writer and activist George Turner led the challenge against the 134,700 sq m mixed-use proposal, objecting against issues such as housing and the view.
He had the support of local residents, Westminster Council, English Heritage and the Twentieth Century Society.
But judges at the Court of Appeal ruled inspectors "acted properly" in granting permission to the Shell Centre plans.
'Flawed'
The scheme, given the go-ahead in June 2014, was put together by Canary Wharf Group and Qatari Diar joint venture Braeburn Estates, which will see the demolition of most of the centre's current buildings.
Eight new buildings for shops, office space, restaurants and homes based around the original 1961 Shell Centre tower are set to be completed in 2019.
Mr Turner said the scheme was "flawed in so many ways". The group said views of Unesco world heritage site Westminster Palace from Green Park would be destroyed.
But appeal judges Lord Justice Longmore, Lord Justice Davis and Lord Justice Sales, supported a decision by the High Court in February when Mr Turner's case was originally dismissed.
Announcing the verdict, Lord Justice Sales said none of the matters relied on by the writer, "whether taken individually or together", indicated there was a possibility a local government inspector -who led a public inquiry in 2013 and recommended planning approval - was "biased".