Leytonstone double murder: Drug gang killers given life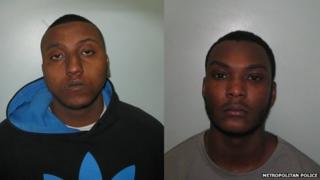 Two gang members have been jailed for life for their part in the murder of two rival drug dealers.
Devonte Campbell, 20 and Omar Hassan, 22, from east London, were among four men convicted of killing Aaron Carriere, 21, and Josiah Manful, 20.
The victims were lured to a quiet residential road in Leytonstone, east London, early on 1 March 2014
At the Old Bailey, Campbell was jailed for a minimum of 35 years and Hassan for at least 26 years.
The victims where were "boxed in" by their killers and stabbed 24 times in less than a minute in a "swift, frenzied, utterly brutal" attack, the judge said.
Sentencing, Judge John Bevan highlighted the acts of extreme violence committed by "feckless" youths.
Alex Bernard, 21, and Casey Jones, 19, both from east London, were previously jailed for at least 31 years and 34 years respectively.
The two victims were set upon in their black Ford Fiesta in Montague Road having been trapped by four cars so they had no means of escape.
A group of about 12 men leapt out of the cars and, armed with knives, set upon the two men, stabbing them dozens of times.
The attack was all over in just 45 seconds and Mr Carriere and Mr Manful were left slumped in the car, mortally wounded.
Mr Manful managed to get out of the driver's seat to call for help and a woman who lived nearby came to their aid and comforted the two men in their final minutes, the Old Bailey heard.
Both were pronounced dead at the scene.
Although there were drugs and cash in the car, only one item was stolen - Mr Carriere's mobile phone which contained his drug-dealing "client list".