Demolished 1920s Carlton Tavern 'should be rebuilt'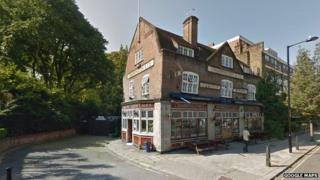 A 1920s London pub - demolished by the owners while it was being considered for listed building status - should be rebuilt, council officers say.
The Carlton Tavern in Maida Vale was unexpectedly bulldozed on 8 April.
It was being considered for listed status and "was the only building in Carlton Vale to survive WW2 bombing".
Councillor Thomas Crockett said he had been inundated with calls to rebuild it and Westminster City Council officers had recommended the same.
The officers have recommended an enforcement notice be served on the owners to rebuild it following the unauthorised demolition and councillors meet on Tuesday to consider the proposal.
"Since the unlicensed and unexpected demolition of the pub on 8 April, which I witnessed myself, I have been inundated with calls for it to be rebuilt and I have been lobbying hard for the stronger actions to be taken against its owners," Mr Crockett said.
Councillor Jan Prendergast previously told the BBC the demolition "came as such a shock to everyone."
"It was the last building standing in Carlton Vale after the WW2 bombings," she added.
Historic England said the tavern was built in 1920 in the Vernacular Revival style by Frank J. Potter. It was commissioned by Charrington & Co brewery at a cost of £11,600 and replaced an earlier pub on the site dating from the 1860s which was destroyed by a German Zeppelin bomb on 19 May 1918.
An application to demolish the building and replace it with a pub and mixed-use accommodation was received by the planning department on 13 January.
At the time council officers had recommended the application for approval, but elected councillors refused it on design grounds.
Further information has since come to light about the building following Historic England's assessment. Council officers are now recommending the pub be rebuilt within 18 months "so as to recreate in facsimile the building as it stood immediately prior to its demolition on 8th April 2015."
The owner of the pub was not available for comment.