Leighann Duffy murder: Lloyd Byfield jailed for life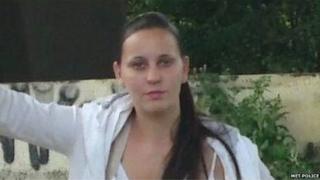 A drug dealer who murdered a woman in front of a six-year-old girl has been jailed for life.
Lloyd Byfield, 48, admitted stabbing 26-year-old Leighann Duffy 14 times after breaking into her home in Walthamstow, east London, in September.
At the Old Bailey, Byfield was told he would serve a minimum of 26-and-a-half years but may never be released.
The judge also told the court the authorities failed to deport Byfield after he committed earlier crimes.
During the hearing, Judge Nicholas Cooke said the murder could have been prevented if the Jamaican national had been sent to his homeland after he attacked another woman with a chisel and was jailed for 30 months for burglary in 2005.
He told Byfield: "You were to be deported but, for reasons that have never been explained to me, that was never actioned and you remained here able to kill an innocent woman."
Deportation order
The Home Office said Byfield was one of about 1,000 prisoners released without being considered for deportation over several years which the then Home Secretary Charles Clarke apologised for. Mr Clarke was later sacked as home secretary.
Byfield was released in 2005 and absconded after a deportation order was pursued in 2007.
A Home Office spokesperson said: "This is an appalling case which should not have happened.
"Deportation action was pursued in 2007, but a deportation order for which he became liable in September that year was not served on him as he was seeking a High Court review, which was subsequently refused.
"Byfield absconded in October 2007 and did not again come to the attention of the Home Office until he was arrested on suspicion of the murder of Leighann Duffy."
The court heard he had pursued a relationship with Ms Duffy before he smashed his way into her flat.
The child who witnessed the assault suffered minor injures but did not require hospital treatment.
Judge Cooke told Byfield he must have had a "heart of stone" to have killed Ms Duffy despite the presence of the girl, whom he also attacked when she tried to intervene.
Ms Duffy died in hospital two days after the attack.
Byfield was arrested days later when he stopped a police community support officer in Walthamstow High Street saying he was wanted by the police.
He had been convicted of cannabis dealing in Jamaica before he came to Britain and he was was granted leave to remain in the UK after he married a woman in 2002, the court heard.
In a statement, Ms Duffy's mother Ann Kerr described her daughter as a "happy, joyous woman" and said Byfield's actions had "completely ripped our family apart".