Hundreds of razor blades found in Thames at Isleworth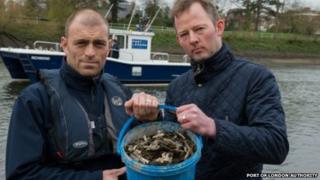 More than 500 razor blades have been dumped in the River Thames.
They were found near the banks of Isleworth in west London as pupils took part in a wildlife project close by.
"I couldn't believe it," said Jason Davey from Berkshire, who alerted the teacher when he discovered the blades.
The Port of London Authority said most of the blades had been collected but it advised people to take extra caution when in the foreshore area as some may have been missed in the mud.
"Because this is a fast flowing tidal river some are no doubt already elsewhere in the river," Jon Beckett from the Port of London Authority said.
Mr Davey said: "I couldn't believe it to be honest. I looked down and saw all these razor blades. I've no idea what was going through the mind of whoever did this."
Anyone who spots a razor blade or other harmful material on the river is asked to contact the Port of London Authority.