London Bridge station: MPs raise rail 'chaos' with transport secretary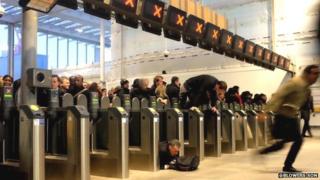 The transport secretary is to be challenged over the delays and overcrowding at London Bridge station.
Labour MPs from the capital will meet Patrick McLoughlin on Wednesday to urge him to take urgent action to sort out the recent "chaos" at the station.
It was hit by more problems on Monday, on the day new measures designed to ease congestion came into force.
New platforms and signalling at the station have caused travel disruption since January.
The Rail, Maritime and Transport (RMT) union has accused the government and rail companies of a "conspiracy of silence" over the problems, saying its members had warned plans to upgrade the station were a "disaster waiting to happen."
General secretary Mick Cash said: "The voices and the warnings of staff on both rail and Tube are being ignored by senior managers who we believe are engaged in an orchestrated and politically motivated cover up of the risks and the facts in pursuit of a cuts agenda.
"That dangerous ignorance has to stop before we have a major disaster on our hands."
Labour's London Assembly transport spokesperson, Val Shawcross, said: "We've already seen dangerous overcrowding - unless this situation is resolved it is only a matter of time until someone is seriously injured.
"With other parts of the transport system now suffering from severe overcrowding as a knock on effect from the London Bridge chaos, the government and train companies ducking responsibility just won't wash with the thousands of commuters caught up in it."
Labour MPs at the meeting will include Harriet Harman, Tessa Jowell and Sadiq Khan.
Mr McLoughlin will be pressed to review the management at London Bridge, improve communication with passengers and set up an easy to use compensation scheme.
Mr McLoughlin has described the London Bridge situation as "totally unacceptable".