Union 'warned of Tube crowding before woman fell under train'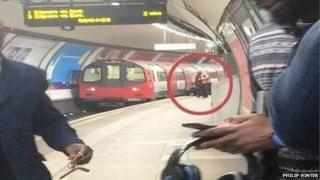 The Rail Maritime and Transport union (RMT) has accused London Underground of ignoring its warning about "lethal overcrowding" at Clapham South station.
A woman fell between the platform and the tracks on Thursday morning.
Transport for London (TfL) said the Tube was safe and released CCTV footage which it said showed the station was not overcrowded when the woman fell.
It is thought the woman, who was treated for a broken arm and a black eye, caught her coat in the train door.
London Underground said at the time of the incident the platform was not overcrowded and a full investigation was under way into what happened.
The BBC understands the woman, in her 20s, boarded the train at about 08:00 GMT but decided to disembark because it was so full.
As she tried to get off the train it is thought her jacket snagged in the doors and she was pulled under the train as the driver began to pull out of the station, TfL said. When the driver realised what was happening he stopped as soon as he could.
The RMT said it had formally warned London Underground (LU) last week about the "death trap" overcrowding situation at Clapham South, during a specially convened safety meeting.
In a statement issued on Thursday, RMT general secretary Mick Cash said: "The terrifying incident at Clapham South added to major issues at Brixton and Oxford Circus last week and the chaos at London Bridge."
He said the impression was that transport bosses were "taking serious risks" with people's lives, which he put down to insufficient capacity and a reduction in the number of station staff available to help passengers.
"This critical situation cannot be allowed to continue until we have a fatality on our hands.
"Our members know where the death traps are and where the pressures are building up, and we are demanding a top level safety summit to allow us to get our safety fears addressed and dealt with, and that also means an immediate halt to the job cuts," he added.
TfL said: "This sort of incident is very rare on the Tube."
It said 4.5 million people used the Tube daily and it had invested heavily in safety over many years. TfL said the Tube was one of the safest railways in the world and in 2014 major injuries on the Tube fell by 29%.
London Underground operations director Nigel Holness said: "We are not complacent, we will look at this, we will learn the lessons and see what else we might need to do."