London Bridge: 'Delayed passengers should be compensated'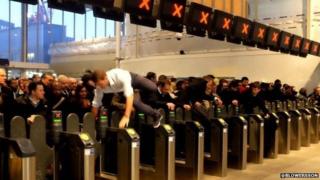 Passengers suffering severe delays because of the upgrade works at London Bridge should receive compensation, the rail minister has said.
Thousands of people were stranded in "life threatening chaos" at the station on Tuesday, a transport union said.
Network Rail apologised and said the situation was caused by signal failures and someone being hit by a train.
Minister Claire Perry said talks were ongoing with Network Rail and station management to ensure passenger safety.
People were seen jumping over and crawling beneath ticket barriers to avoid the crush at the south London station on Tuesday night.
'Deplorable failure'
The Transport Select Committee's Labour chairwoman Louise Ellman described the scenes as "chaotic and dangerous" while the Rail, Maritime and Transport Union (RMT) said it had resulted in "life threatening chaos."
The Conservative MP for Mid Sussex, Sir Nicholas Soames, told the House of Commons: "We all want to see improvements to these stations".
But he said Network Rail's "deplorable failure" to manage the scheme and train operators' timetable failings had caused "inexcusable delays" for his constituents.
"Will you consider giving all those people who have had to travel into London Bridge during this period a compensation on the cost of their tickets to reflect the very, very serious conditions that they've had to deal with?" he asked Ms Perry, the MP for Devizes.
The Conservative rail minister replied: "The reason the government is spending £38bn is for passenger improvements and I completely agree what is required is a compensation scheme and that is something we are currently looking at."