Nine Elms-to-Pimlico's £40m bridge designs unveiled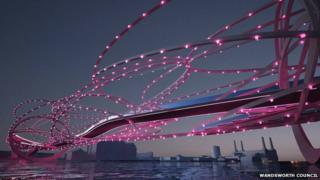 Dozens of designs for a new bridge across the River Thames in south-west London have been unveiled.
The £40m cycle and pedestrian bridge would stretch from Nine Elms to Pimlico.
A total of 74 designs for the crossing have have been revealed as part of an international competition run by Wandsworth Council.
The bridge is intended to "plug the gap" between Vauxhall and Chelsea bridges on the Thames.
For the first stage of the competition, the designs are being published online and displayed at local exhibitions. Each proposed design will undergo a detailed technical assessment.
A shortlist of up to four designs will then go through to the next competitive stage and to develop more detailed plans in March.
The publics' comments will be passed to competition's jury panel, which includes councillors, an architect, and an engineer.
Leader of Wandsworth Council and jury panel member, Ravi Govindia, said the bridge posed complex design, engineering and transport challenges.
He said: "To succeed, this bridge must be two things at once. It must be a beautiful piece of architecture and a valuable new transport link.
"This is what our growing city needs and thanks to this competition we now have more than 70 different approaches to consider."
A £26m contribution will come from the private Nine Elms development and the new design would be used to bring more funding.
The new bridge is part of a £2bn infrastructure project intended to transform the Nine Elms area and will include two new Northern Line tube stops.