Ayesha Ali death: Bizarre relationship led to killing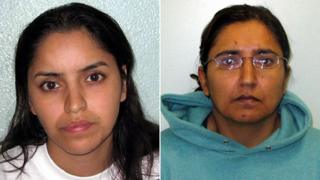 In a case that involved fictional spiritual guides, fake online relationships and pretend illnesses, a mother and her former lover have been found guilty of killing her daughter.
It was a complex and unconventional relationship that led to the death of Ayesha Ali.
The eight-year-old died of a head injury at her home in Romford, east London, last year. She was found dead in her bedroom with more than 50 injuries, including bite marks.
The court heard she was caught in the middle of a dangerous relationship between her mother Polly Chowdhury, who suffered from low self esteem, and Kiki Muddar, who had a narcissistic personality disorder.
Post-mortem examinations revealed Ayesha Ali died as a result of damage to the head from a blow or blows.
The police said on arrival at the flat in Bedwell Court, Chadwell Heath on 29 August, paramedics found Ayesha's lifeless body on her bedroom floor and it was obvious that she had been dead for some time.
The pair met as neighbours in Romford in 2007 but their friendship intensified in 2012 when Muddar falsely told Chowdhury she had cancer and needed her help.
Speaking after the trial, Chowdhury's former husband Afsar Ali said: "To me she (Muddar) came across a very evil person.
"From the outset I knew there was something not right about her. She was very sly, she was a control freak - she wanted to control things."
He said he told Chowdhury to avoid her, but instead his ex-wife would see Muddar when he was at work or socialising.
The relationship between Mr Ali and his wife deteriorated and in December 2012, he moved out. Afterwards, Chowdhury prevented him from seeing Ayesha.
In court, Mr Ali said his wife had been the perfect mother to Ayesha until she met Muddar. He told their trial she became unrecognisable to him and it appeared as though she became "possessed".
In 2013 the women and Ayesha moved to Bedwell Court in Chadwell Heath. According to the prosecution, it was here the women started to share a bedroom and Muddar stepped up her manipulation of Chowdhury.
She created a fictional online persona who corresponded with Chowdhury through Facebook and text messages.
This was part of a "sophisticated deception" by Muddar, which included setting up fake Facebook accounts of so-called siblings and cousins, to exert influence over Chowdhury.
The court heard Muddar embarked on the deception in order to facilitate a sexual relationship with Chowdhury. She also persuaded her to touch different parts of her body in order to heal the non-existent cancer.
Muddar also invented a further character called Skyman, a fictional spiritual guide who only communicated via text message. Incredibly, according to the prosecution, Chowdhury appeared to accept what he said in the messages and would try to act in a way to please him.
Some of the messages Muddar sent pretending to be Skyman read: "Your daughter will be destroyed" and "you have no right to ever love or like your evil daughter".
'I'm going to kill her'
The police investigation revealed the extent of the online contact between the women and fictional characters.
It found:
140,000 lines of data from texts, WhatsApp, Viber and emails
40,000 messages on a laptop
1,450 voice recordings from Muddar's phone backed up on a computer
17,000 pages of Facebook messages
Teachers noticed Ayesha's demeanour started to change from April 2013. The psychological abuse ramped up to the extent that Ayesha kept a diary on how she was trying to be good.
In one entry she wrote: "I have learnt while I am sitting here that I have to change! I will change, no matter what!
"Being thought bad, naughty and mean it's getting to be very upsetting. I don't like hurting other people's feelings!"
She also wrote a "naughty list" which detailed all the "good" and "bad" things she had done. These included "finishing my jam sandwich on time" and "being quick in the bathroom" on the good list, and "pulling faces" and "not putting my shoes in the right place" on the bad list.
She was ordered by the women to continuously clean and scrub the bathroom, and carry out other household chores as punishment.
In an expletive strewn phone call in July, Muddar told her friend Hemma that she was going to kill Ayesha, adding she would "drown that witch".
"Seriously I'm going to kill her. I'm going to kill her Hemma and I'm going to go to prison tonight."
Later in the phone call she said Ayesha was evil and that: "I've never in my life ever, ever wanted anyone dead, never except for her, never."
The physical abuse began in the school summer holidays, the court heard.
Psychologist's view
Kevin Browne, a professor of Forensic Psychology & Child Health, said Muddar had a narcissistic personality disorder and was able to manipulate Chowdhury because she was a vulnerable person with a negative sense of self.
"She [Chowdhury] was putting her needs for love and affection before the needs of her child and she found it in this woman," he said.
"The more dominant individual was a narcissistic person who wouldn't have sympathy for anyone else's point of view, and was only concerned with her own view and ideas and convinced herself that her view was the right one or the reality, no matter what was going on.
"She wouldn't have seen the pain and cruelty to the child; she would only care that the child did what she wanted her to do.
"[The mother] was so preoccupied with the friendship and having virtual relationships that she too would not have seen or understood the pain the child was going through.
"There were two individuals being cruel, with the dominant one encouraging the cruelty probably out of jealousy as she didn't want the attention on the child and instead wanted it all on her."
Ayesha died on either 28 or 29 August 2013 - the exact time is not known because the women did not take her to hospital.
Chowdhury told jurors Muddar had shouted out to her that Ayesha was drowning while having a bath.
"I thought she had tried to drown herself," she said. "We lay her on the floor and I asked Kiki to help because I did not know what to do. Kiki did CPR. I was standing nearby in Ayesha's bedroom."
She went on: "She did not seem herself. She was pretty cold and very stiff and her eyes were not closing properly. I was very distressed. I was crying. I was hugging her. I was crying out for Skyman to help me."
Ayesha's body was found when Muddar called emergency services after she discovered that Chowdhury had tried to kill herself.
Paramedic Laura Ward said she repeatedly asked Muddar if she was concerned about Ayesha to which Muddar replied: "She was a naughty child and mum thought she was possessed by the devil."
When Ms Ward asked her if she was upset about the child, Muddar replied: "My friend is my concern."
'Groomed for sex'
Muddar refused to give evidence at the trial.
The court heard that Chowdhury's first husband was sexually violent towards her and she had had an unhappy childhood during which she had been abused.
She told the jury she had developed feelings of anger and hatred towards her daughter because she was being manipulated by Muddar.
She admitted that after Muddar moved in, they smacked Ayesha and hit her with a wooden spoon, following text message instructions from "Skyman".
Psychiatrist Dr Philip Joseph, who gave evidence for the prosecution, told the court that Chowdhury had admitted to him that she now realised she had been groomed.
"I never realised it at the time," she said.
"I was groomed for sex with her. Everything changed about her when she had sex with me... Skyman was doing us a favour because me and Jimmy were not allowed to see each other.
"It was like his soul in her body - like in the film Ghost."
Dr Joseph said Muddar had admitted lying to Chowdhury about her health, but claimed she had made it up at her suggestion so she could leave her husband.
The prosecution said she was delusional, creating her own reality where she was the star.
What is narcissistic personality disorder?
According to the mental health charity Mind people who have this disorder are likely to:
• believe there are special reasons that make them different, better or more deserving than others
• have fragile self-esteem, so they rely on others to recognise their worth and needs
• feel upset if others ignore them and don't give them what they feel they deserve
• resent other people's successes
• put their own needs above other people's
• be seen as selfish and "above themselves"
• take advantage of other people
Find out more about personality disorders on the NHS website