Charging protest groups 'outrageous' says MP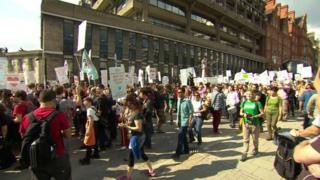 An MP who campaigns for human rights has described the Met Police's decision to make protest groups pay for traffic management at demonstrations as "absolutely outrageous".
Labour MP Jeremy Corbyn, of the All Party Human Rights Group, said making groups pay thousands of pounds could "silence legitimate demonstration".
The Met Police said it had reviewed the services the force provides.
It said there was "no question of any protest organiser paying for policing".
'Creeping privatisation'
In the past few months, for the first time, protest groups planning marches in London have been told they must fund traffic management.
The Campaign Against Climate Change and Million Women Rise have been told they must pay for their own traffic plans, which are needed before a Temporary Traffic Regulation Order can be made and roads closed.
While in the past the Met has paid for this, the force told BBC London it was not the police's role and "there would be a cost to the public purse to do so which would not be properly incurred".
In January, the Met said it expected to have to make cuts of £800m to its £3.5bn budget over the next four years, having already faced cuts of £600m over the past four years.
The Campaign Against Climate Change is working with a number of organisations to hold its Time to Act demonstration on 7 March, expected to attract 20,000 people.
Claire James from the campaign said: "This creeping privatisation of protest threatens our democratic right to make our voices heard at this pivotal time.
"This issue extends beyond any one specific concern or campaign. It touches on the basic rights of everyone, everywhere. If you can't afford to pay, you can't afford to protest."
'Policing not charged'
Million Women Rise, a group that campaigns about violence against women, has marched with up to 10,000 women and children for over an hour through central London every year for the past eight years to mark Women's Day.
Sabrina Qureshi, founding co-ordinator, said this year the group had been told it needed "certified stewards" at a cost of £120 a day each, with one steward per 20 people. In the past, volunteers had been adequate.
She said: "We don't have an office. We can just about afford flyers."
She said she had been told the traffic plan could cost the group £10,000.
Mr Corbyn, Labour MP for Islington North, said: "This is absolutely outrageous. It's an inalienable right to express one's beliefs in any streets in Britain.
"Effectively charging people to demonstrate will mean they will happen without co-operation or they will silence legitimate demonstration."
Ch Supt Colin Morgan said: "This is not a case of police charging for their services but more a matter of refusing to use the public purse to provide a traffic management plan or stewarding for a private event."
A Met statement said: "There is no question of any protest organiser paying for the policing of a protest event. Any policing on the march (to deal with issues related to the Met's core responsibilities) is not charged for and never has been."