London bus strike: Staff walk out over pay differences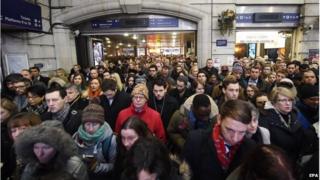 A strike by London bus drivers protesting at differences in pay has finished.
Members of the Unite union walked out at 00:00 GMT on Thursday but Transport for London (TfL) said about 47% of routes had remained operational.
It called the strike "totally unnecessary" but the Unite union said the pay system was in "chaos" and had to be changed.
It said there were large differences in pay between London's 18 bus companies.
Bus company Tower Transit said the union wanted firms to "act as a cartel", which they legally could not.
The strike came to an end at 0400 GMT on Friday.
Tfl said about 390 bus routes ran a service and some 2,650 buses had been on the capital's streets.
Bus services during the day on Friday should operate as normal.
The strike was the first of three 24-hour stoppages planned this month. The next are scheduled for 13 and 16 February.
Members of Unite want an end to differences between firms that can see staff salaries differ from £17,000 to £25,000.
TfL has said that changing this could cost up to £100m a year. In an open letter in the Evening Standard, it called the strike "totally unnecessary".
However Metroline bus driver Steve O'Rourke, who was on the picket line in Archway, called for the bus companies to take action.
He said: "It is very simple really, we are doing exactly the same job.
"We drive up and down the roads with places that other companies are running as well and yet we are on different rates of pay."
Pete Kavanagh, London regional secretary of Unite, said: "We've got a two-tier workforce in which people coming into the industry in recent years never get to the top rate of pay.
"We've literally got hundreds of rates of pay and this has got to stop."
The bus companies affected were Abellio, Arriva, CT Plus, Go Ahead, London Sovereign, London United, Metroline, Stagecoach and Tower Transit.
Leon Daniels from TfL said: "It's not a matter for TfL to step in on.
"For the last 20 years, we've run a brilliant bus service as a result of local pay negotiation between the local drivers and their employers."