Golders Green MP calls for Jewish buildings security fund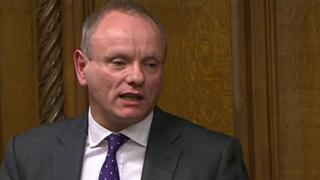 A north London MP has asked David Cameron to look into creating a counter-terrorism fund for faith schools and community buildings.
Mike Freer, Conservative MP for Finchley and Golders Green, said there were 120 buildings now at risk of a terrorist attack like the one in Paris.
The MP's constituency has one of the largest Jewish communities in Britain.
Mr Cameron said he had met the Jewish Leadership Council to discuss the issue following the atrocities, last month.
Speaking at Prime Minister's Questions, Mr Freer asked Mr Cameron: "Will you commit to looking at creating a counter-terrorism fund to help meet security measures at these community buildings?".
In answer, Mr Cameron said the £2.3m provided in the schools security grant this year to protect security in Jewish schools would be maintained next year.
'Vital part of community'
He also told MPs Education Secretary Nicky Morgan would be meeting the Community Security Trust to see what more could be done to help Jewish independent schools.
Mr Cameron concluded: "We need to do everything we can to help this community feel safe and secure in our country.
"I would hate it for British Jews not to feel that they have a home in Britain, safe, secure, a vital part of our community."
There has been heightened concern among Jewish Londoners since a siege at a kosher supermarket in Paris which followed the Charlie Hebdo attack.
The Metropolitan Police have increased patrols in areas with large Jewish communities.
The number of anti-Semitic offences reported to the force has more than doubled in a year.
Between 1 April and 31 December 2014, there were 299, compared with 131 in the year before.
The Community Security Trust, a charity that monitors anti-Semitism, is due to publish UK hate attack statistics on Thursday.