Burglars 'enjoyed' Wimbledon lecturer attack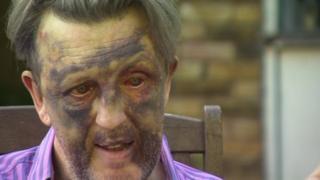 A gang of burglars seemed to enjoy punching a university lecturer as they raided his south London home, a court has heard.
Paul Kohler, 55, needed facial reconstruction surgery after the attack in Kings Road, Wimbledon, on 11 August.
In his witness statement at Kingston Crown Court, Mr Kohler called for the defendants to explain "the real reason" why his family was targeted.
Four men admitted the aggravated burglary when Mr Kohler was beaten.
Pawel Honc, 24, of no fixed address, and Mariusz Tomaszewski, 32, of Crusoe Road, Mitcham, south London, pleaded guilty to causing grievous bodily harm with intent and aggravated burglary.
Oskar Pawlowicz, 30, of Pitcairn Road, Mitcham, and Dawid Tychon, 29, of no fixed address, admitted a charge of aggravated burglary.
In his statement the lecturer said the "mindless action" had undermined the security of a happy home, but insisted the family had not thought about moving.
He said: "I consequently want to say to each of the attackers that, if you are genuinely remorseful, you will waste no more time in telling us, through your counsel if you wish, the real reason we were targeted."
Prosecutor Charles Evans said that on the evening of the attack Mr Kohler answered the door while his wife Samantha MacArthur, daughter Eloise and her boyfriend Geraint were upstairs.
Mr Evans said the men burst into the house wearing scarves and latex gloves and "no words were used, nor threats, just a rain of punches".
One of the men then demanded "Where's the money?" but Mr Kohler replied "You've got the wrong address".
Mr Kohler, head of law at the School of Oriental and African Studies in London, was held down on the floor during the five-minute attack as one of the men sat on him and repeatedly punched him in the face while another kicked him in the head, the court heard.
"Mr Kohler says that the male sitting on him seemed to be enjoying himself and made him fear for his life," Mr Evans said.
The lecturer suffered a fractured eye socket, a fractured left jawbone, a broken nose and bruising that left him "utterly unrecognisable", the court heard.
Two of the men also ran upstairs and confronted Ms MacArthur, pushing her to floor and covering her face so she could not see what was happening.
Mr Kohler's daughter Eloise and her boyfriend hid in her bedroom, locked the door and called police.
Police got to the property and found Tomaszewski and Honc hitting and kicking Mr Kohler.
But Honc managed to escape and was pursued - he was later found hiding under a parked car. He and Tomaszewski were then arrested.
Tychon was arrested in south London days after the attack, while Pawlowicz was arrested four weeks later.
He was linked to the crime after a cigarette butt was found outside the property with his DNA on it.