What lies in store for London Mayor Boris Johnson?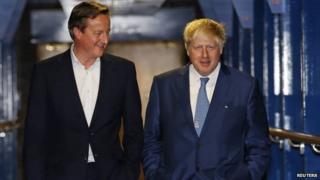 London Mayor Boris Johnson has been touring northern towns, posing with a Kalashnikov in Kurdistan and goes to Washington shortly hoping for something to match Prime Minister David Cameron's recent visual endorsement from his "bro" Barack.
People cannot help but notice that he is busy and the activity is hardly confined to life behind a desk at City Hall where his writ has a full 17 months to run.
That the approaching election and its aftermath could be the defining moment for his political ambitions has set off another phase of informed speculation from those commentators most plugged-in to this scene.
It began with Peter Oborne in the Telegraph reporting that although the pair don't much like or trust each other, the Chancellor George Osborne has accepted his leadership limitations and is prepared to muck in behind London's mayor in a bid to thwart Home Secretary Theresa May.
Doubts that Mr Osborne is willing to forgo his own ambitions quite so easily followed from Matthew d'Ancona in the Guardian, while James Kirkup in the Telegraph reminded us all to be cautious - little of this stuff about who wants to back whom post-Cameron should be taken at face value.
However the Sunday Times reported at the weekend - though with no named sources - that an Osborne/Johnson pact of sorts has indeed been discussed.
What is clear is that London's mayor has been re-connecting with Conservative MPs and getting to know new candidates with the blessing of Cameron and Osborne, who want Mr Johnson's popular appeal deployed to full effect on the campaign trail.
Knowing too just how on the lookout he is for that ball coming loose at the back of the scrum, they want him tightly bound in to the said pack.
At a Mayfair restaurant he had dinner with the government whips. He has apparently been holding his own lunches to get to know the parliamentary lot better. It escapes no-one's attention that for now at least this is an arrangement from which both the Tory leadership and the mayor can benefit.
Yet at what point do their interests diverge, and his own advancement depend on the misfortunes of others?
Some think Mr Johnson's best hopes now lie with a Conservative majority in May, then two years with his head down completing his mayoralty and building up support among MPs ready for a Cameron resignation after the European referendum in 2017.
During this time he could have a job in cabinet though there would be difficulties. His team once floated in the pages of the Evening Standard the idea of a ministerial role in charge of infrastructure - rail projects and roads and new homes.
But some point out how potentially conflicted this role would be, while he remained mayor of London and thus expected to lead the call simultaneously for a fairer investment package for the capital.
In the Sunday Times, there was speculation - or was it a suggestion from those close to him? - about Mr Johnson being made minister without portfolio, roaming across briefs in a breezy, get-the-message-across kind of way which wouldn't involve him being wedded too closely to one department while he saw out his City Hall days.
Some, though, feel that a spell in a tough department is just what is required, imagining him having to deal with an A&E crisis or a terrorist strike. Let us see how he manages in the real political world, they say.
However, the bigger question is whether the mayor would be more likely to succeed if the Conservatives were defeated.
In this case, it may become more problematic for him the more convincing the Labour victory.
The worst scenario for Mr Johnson, it seems accepted, is a decent functioning Labour majority. He is too far committed to be able reasonably now to back out of standing for the leadership.
Yet even some admirers admit that being leader of the opposition, often described as the hardest job in politics, for four or five years would not suit his temperament or lifestyle.
It is presumed that preferable would be a wafer-thin Labour majority, better still a Labour-led coalition or minority administration. In this scenario, Mr Johnson could spend a few months battering and heckling a beleaguered Ed Miliband while touring the country winning over those who still perceive him to be a posh metropolitan buffoon, despite his two victories in a Labour-leaning capital.
A few months on - this scenario goes - he could then win a second general election, in the autumn.
All the above permutations are exercising mandarins at City Hall who wonder whether there is any chance Mr Johnson will fail to serve out a full second term. Were he to stand down before this November, there would have to be an early mayoral election costing millions of pounds.
If he stood down after November, so within six months of the scheduled date of the next mayoral election - 5 May 2016 - then the role would be filled in the interim by his statutory deputy mayor Victoria Borwick.
One thing on which everyone seems agreed is that over the coming months London will have to compete more and more for his attention.
And as for his own future, what's best?
Watch over the next 100 days as he campaigns hard. Though maybe not too hard.