Stephen Fry signs 'save Soho' open letter to government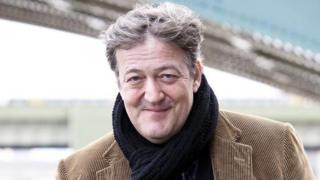 Stephen Fry is among those to have signed an open letter to the government warning that London's Soho is in danger of losing its identity.
Campaigners claim if property development in the area continues, the creative industries will be in "crisis".
The open letter comes from SohoCreate.
The government said it was working with residents and businesses to create a neighbourhood plan for the area.
The open letter said: "The square mile of Soho and its surrounds is the most creative in the world. In its way it is at least as important as the square mile in The City.
"Soho is responsible for 10% of the country's creative turnover. 20% of London's new creative jobs are based here.
"A quarter of Soho's entire workforce is in the creative sectors. It is unique and valuable."
It claimed that since 2011 the area has lost about 30,000 square metres of office and creative space but gained twice that amount in residential property.
The letter continued: "There is a very real danger that we will erode the creative fabric of Soho past the point we can ever rebuild it."
Planning Minister Brandon Lewis said Britain's creative industries contributed about £76bn to the economy annually.
He said: "Soho makes a big contribution to this and we want to keep it that way.
"Local people and businesses have already come together to begin work on a neighbourhood plan for Soho to shape what should be built where."
Correction 27 January 2015: This story has been amended to clarify that the letter was sent by SohoCreate and not Save Soho.