Tottenham Court Road to be 'transformed' in £41m revamp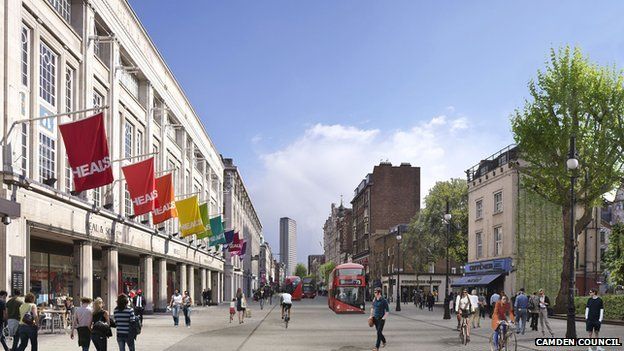 Plans for a £41m revamp of a central London street that include a daylight car-ban six days a week have been backed.
But proposals for Tottenham Court Road - which also include a taxi ban - are set to be legally challenged by black cab drivers.
Camden Council's cabinet has approved funding for the project after public consultation.
Wider pavements, cycle lanes and safer pedestrian crossings will be installed.
The council wants to make the street safer and boost business ahead of the opening of a Crossrail station in 2018.
The current one-way system will be replaced with tree-lined, two-way traffic flows.
But Steve McNamara, general secretary of the Licensed Taxi Drivers Association (LTDA), called the project "madness" and said a legal challenger will be mounted.
"To consider banning taxis from Tottenham Court Road could be described at best as farcical," he said.
"No thought has been given to the hundreds of thousands of people that get picked up and set down by taxis in the metropolis everyday."
Only buses, bicycles and local access will be allowed on the street, from 08:00 to 19:00 Monday to Saturday.
Camden Councillor Phil Jones said taxis and other vehicles would be able to access 60% of the street via side roads.
"A detailed assessment of the impacts of allowing taxis to use the full length of Tottenham Court Road has been undertaken. The assessment has highlighted that allowing taxis to use the street would lead to more traffic congestion, worse air quality and increased road traffic collisions," he said.
The planned changes have been welcomed by the London Cycling Campaign.
A spokesman said the project presents an opportunity "to show how even the busiest London streets can begin to be reclaimed from motor traffic dominance".
The council is planning to start works on the three year project from this summer.
Related Internet Links
The BBC is not responsible for the content of external sites.