Renovation of Silvertown's historic mills begins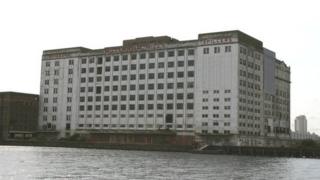 Work to convert a gigantic factory building in east London into a centre for start-up businesses has begun.
The Mayor of London has announced £12m of government funding for the project in Silverton.
The Millennium Mills building - once home to food manufacturer Rank Hovis MacDougall - has been out of use since the early 1980s.
The money will be spent on demolishing parts of the interior and rid the former flour mill of asbestos.
Renovation of the old mill is part of a £3.5bn project, led by the Silvertown Partnership, to transform the Royal Docks.
Plans include 3,000 new homes. The mayor claims 20,000 jobs will be created.
'Industrial monolith'
Boris Johnson said: "The restoration of this great industrial monolith is another vital ingredient in the regeneration of London's historic Royal Docks.
"We want to return this site to its former glory, supporting business and enterprise and breathing new life into an area of the capital that has been dormant for decades."
Labour London Assembly member Tom Copley welcomed the funding, but warned affordable housing needed to be a key priority in the development.
He said: "I am deeply concerned that despite 3,000 new homes being promised by the mayor, there is not one mention in this announcement of making any of those homes affordable.
"Whilst it is important that we see new developments like this in east London, what nobody wants to see is ordinary eastenders being priced out of the area."
The intended conversion of the mill will be complete by 2017.
The plans also include a bridge, to connect Silvertown Quays with a new Crossrail station at Custom House.
The overall plans have been submitted to Newham Council but have yet to receive planning permission.