Rail workers 'nearly hit by Paddington train'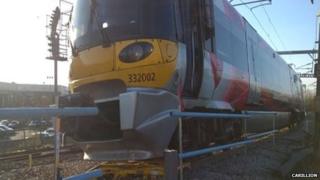 An investigation has started after two rail workers were nearly struck by a train in west London.
The workers jumped clear before the Heathrow to Paddington service struck a small engineering trolley in December.
The incident took place at Stockley where Crossrail work was being undertaken by Network Rail.
The rail company said: "We will fully cooperate with the Rail Accident Investigation Branch's (RAIB) investigation into this matter."
The RAIB said the incident involved the 09:48 London Heathrow Terminal 5 to London Paddington service on 28 December, which would have been travelling at about 36mph at the time.
It said areas around the construction site were temporarily closed for varying periods to enable the work to be carried out but the workers were unaware the line had returned to operational use.
It added that temporary fencing did not prevent the workers from accessing the open line.
As part of the investigation the RAIB will:
Establish the sequence of events
Examine how the work was planned, how staff were managed and the way in which railway safety rules were applied
Understand the actions of the people involved and factors which may have influenced their behaviour
The RAIB said it would also consider whether there was any overlap with an incident the previous day when a group of railway workers walked along a line that was open to traffic before other construction workers raised the alarm.