Tottenham Hotspur in 'selfie stick' stadium ban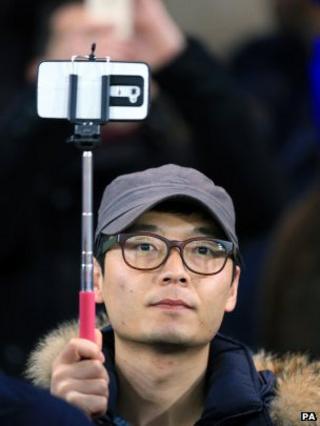 "Selfie sticks" have been banned from White Hart Lane by Tottenham Hotspur.
The devices - elongated sticks that attach to a camera or phone to allow a better photo - were barred from the stadium after a fan complained.
Twitter user @LiamCSWY posted a copy of an email he received from a member of the Spurs "customer care team", with the comment: "Victory".
The sticks were already banned during games but will now be confiscated if found at the ground, the club said.
The first home match during which the measure was imposed was the 5-3 thrashing of Chelsea on New Year's Day.
An email to the fan from the Premier League club's customer care team said: "Upon review, selfie sticks have now been banned from entering White Hart Lane.
"All stewards will be briefed prior to the next home fixture.
"Your comments have been noted and are appreciated and we thank you for taking the time to write to us with your view."