Aravindan Balakrishnan faces false imprisonment and rape charges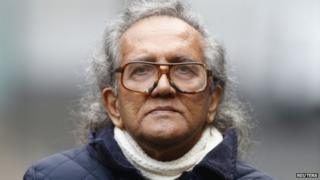 A 74-year-old man has appeared in court charged with 25 offences including rape and child cruelty.
Aravindan Balakrishnan, 74, of Latymer Road in Edmonton, north London, is also charged with false imprisonment and 19 counts of indecent assault.
The charges relate to three women between January 1980 and October 2013.
Southwark Crown Court heard the child cruelty count alleges Mr Balakrishnan wilfully ill-treated, assaulted, and neglected a child.
This was in a manner likely to cause unnecessary suffering to the said child or injury to its health and was said to have occurred between 6 January 1983 and 7 January 1999.
The full charges against the pensioner, who was arrested in Lambeth, south London, in November 2013, are one count of cruelty to a person under the age of 16, one count of false imprisonment, 19 counts of indecent assault and four counts of rape.
A 67-year-old woman, understood to be his wife, Chanda Pattni, was arrested at the same time as him.
In September, after 10 months on bail, she was told she would face no further action and was released without charge.
Mr Balakrishnan has been released on bail until 4 March, while a provisional trial date has been set for 20 July.