Cumberbatch appears on celebrity video to Save Soho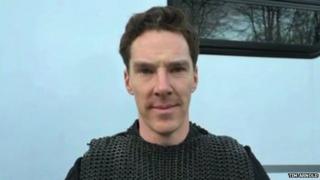 Actor Benedict Cumberbatch has appeared in a celebrity video calling for artists to have a say on the future of the Soho area of London.
Famous faces including actor and broadcaster Stephen Fry, television personality Paul O'Grady and Eastenders actress June Brown also appear.
The video follows the closure of Soho nightspot Madame JoJo's, which was repossessed by the landlords.
Fry said artists want "a small consultation" in landowners' plans.
In the video, Cumberbatch joins the stars to utter the phrase "save Soho".
'Rush to gentrify'
Fry says: "London simply wouldn't be London without Soho.
"Soho's unique blend of raffishness with a hint of wickedness, its artistic freedom of expression, its place as a centre of gay, lesbian and transgender community - all of this give London an extraordinary gift and the metropolis would be so much less of a place without somewhere like Soho."
He added that a "rush to gentrify to maximise profits" would be a disaster and "London would be the loser".
The video was created by the organisation Save Soho which aims to "protect and nurture" performing arts venues in the area.
In November, Soho Estates - owner of the Madame JoJo's premises in Brewer Street - repossessed the building after its alcohol licence was revoked.
In December 2013, Soho Estates obtained permission for redevelopment and renovation of buildings in the area including the club.
A new Madame JoJo's is set to be included within the development.
Westminster council's cabinet member for economic development Daniel Astaire said: "There is no plan to gentrify Soho. We're guardians of Soho for future generations."
On its website, Soho Estates released a statement in which it said the management team "understands the 'village' in which we operate and reacts accordingly" and is committed to keeping the small businesses of Soho thriving.