Olympic Park praised by planners for legacy development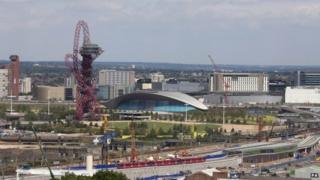 The Olympic Park development in east London has been praised as an example of world-class planning.
The Royal Town Planning Institute (RTPI) said the redevelopment of the Lea Valley for the Games successfully focused on legacy and regeneration.
The design of the Park was commended for having buildings that could be converted into homes after the Games.
But critics have argued that local people were still waiting to see the full effect of what was promised.
The development contains the first new public park within London for more than 100 years, as well as homes which were converted from the Athletes' Village.
Cath Ranson, president of the RTPI, said: "When we asked planning experts to name an example of a successful planning intervention that had changed a whole area for the better, the Olympic Park was cited over and over again.
"London has a planning legacy to be proud of. The key now is to ensure all can share it."
The report, entitled Success and Innovation in Planning was published by the professional body which represents 23,000 planners.
A panel of 100 planning experts from across the UK nominated 12 case studies.
Critics have previously criticised the scheme, saying a new cultural centre meant fewer affordable homes were to be built.