Russian academic 'brainwashed' sons abducted in London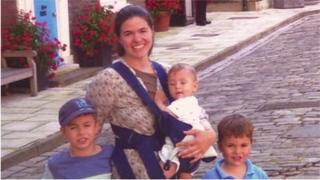 A Russian academic "abducted" his two sons from London and "brainwashed" them, the High Court has heard.
Ilya Neustadt, 38, took Daniel, now eight, and, Jonathan now six, to Moscow on Christmas Day 2012 for a holiday but failed to return them.
The boys' mother Rachael Neustadt, 37, from Hendon, said her boys were taken to demonstrate his "power and ego".
Mr Justice Peter Jackson said despite the "child abuse" Mr Neustadts' future contact needed to be considered.
'Dangerous bandits'
The boys were returned to London in June while Mr Neustadt, who previously worked at London Metropolitan University, remained in Russia.
Judge Jackson said Mr Neustadt engaged in a "series of cynical manoeuvres, delaying tactics and deceptions" knowing that Ms Neustadt would be "powerless to oppose" and had "no intention of returning them".
He said the lecturer had "flouted" every English court order and had "brainwashed" his sons into believing they only needed one parent and were being "pursued by dangerous bandits, including their mother".
"This was not just child abduction, it was child abuse," he said.
Ms Neustadt began legal action shortly after her sons were taken and a High Court judge ordered that Mr Neustadt return the children to England, but he failed to comply.
'Pedantic, unreliable and untruthful'
His ex-wife went on to win a landmark ruling at Moscow City Appeal Court which ruled her sons had been illegally kept in Russia in breach of a UK High Court order.
Judge Jackson said: "The children and their mother have been profoundly affected by these events.
"They were forced to live a bizarre clandestine life, surrounded by lies and cut off from normal existence."
But he said when Mr Neustadt gave evidence he showed "little appreciation of the impact of his actions" and was "pedantic, unreliable and untruthful".
Speaking at the hearing Ms Neustadt said she believed the abduction was "about control and his perception of winning, and not about anything else, including about the children".
The judge said the next stage of the legal proceedings would focus on the children's welfare.
"However harmful their father's behaviour has been, he is an important figure for them," he said.