Tottenham Hotspur pitch invasion: Three men fined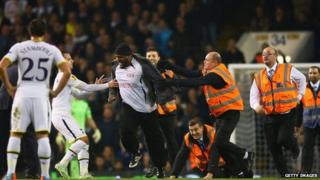 Three men who admitted causing the suspension of a recent Tottenham match by running on to the pitch as part of an internet prank have been fined.
Spurs' Europa League game on 27 November had to be temporarily halted shortly before half-time.
Nathaniel Thompson, 23, Helder Gomes, 22, and Daniel Jarvis, 26, pleaded guilty to going on to a playing field without a lawful excuse or authority.
Highbury Corner Magistrates' Court fined them £155 each.
They were also subject to football banning orders for three years.
The court heard that although the men were all wearing BassBuds T-shirts, the stunt was not sanctioned by the headphone manufacturer.
Defence lawyer Altaf Mohammed said the trio were handing out headphones to crowds outside the match as part of a promotion.
They were given tickets to the game and made a spur-of-the-moment decision to storm the pitch.
"They were basically doing voluntary work - it's only once they entered the stadium that they decided to do what they did," he said.
He added that Mr Thompson, of Lothair Road, north London; Mr Gomes, of Grantham Road, south London; and Mr Jarvis, 26, of Whitehill Road, Gravesend, were "ashamed" of their behaviour.