Jimmy Mubenga death: Protest over G4S trial verdicts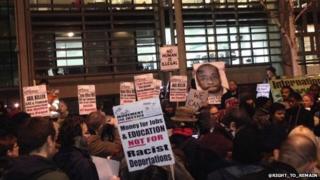 A protest against three G4S security guards being found not guilty of the manslaughter of a man they were deporting has taken place in London.
Organisers said about 200 people gathered outside the Home Office in Marsham Street, Victoria, on Thursday.
Jimmy Mubenga, 46, had a fatal heart attack on a Heathrow flight in 2010.
Terence Hughes, 53, Colin Kaler, 52, and Stuart Tribelnig, 39, denied acting dangerously or negligently during the incident, on a British Airways flight.
He was being deported to Angola after serving a two-year prison sentence for assault occasioning actual bodily harm.
Passengers told the Old Bailey they heard Mr Mubenga crying out "I can't breathe" as he was pinned down in his seat - while already being handcuffed from behind with his seatbelt on.
But the guards denied forcing him into a seat and pinning him down in a position which affected his ability to breathe. They also insisted they never heard him shout that he was struggling to breathe.
The protest was organised by groups including the National Union of Students, London Black Revolutionaries and Right To Remain.
It was held on the UN International Migrants Day.
The protest comes as it was revealed that the judge at their trial refused to allow the jury to hear about dozens of racist text messages which were found on the phones of Mr Hughes, from Hampshire, and Mr Tribelnig, from Surrey,
An earlier inquest, which ruled that Mr Mubenga had been unlawfully killed, had heard evidence about the text messages. The jury were also not told about the inquest verdict.
Mr Justice Spencer said the evidence of the text messages did not logically prove that Mr Mubenga was "held forwards, head down, rather than holding himself forward voluntarily in that position throughout".
In his judgement, he said: "It invites an emotional and speculative approach to an issue where logical analysis and logical inference should be of paramount importance."
He added that if there had been any suggestion of overt racism in the defendants' conduct towards Mr Mubenga, the relevance of these texts would have been far easier to assess and apply.
Deborah Coles, the co-director of Inquest, disagreed with the judge, saying the context was important.
She said: "The extent to which they were racist and saw him as sub-human may explain their apparent indifference to his calls that he could not breathe.
"The coroner said the text messages were not evidence of a couple of rotten apples, but were pervasive evidence of racism.
"I think the attitudes of the individuals was extremely relevant."