London bus drivers vote for New Year strike action over pay dispute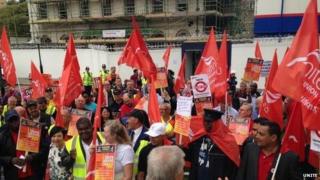 London bus drivers have voted in favour of strike action in the New Year over pay disparities.
Unite said its members had voted 85% in favour of industrial action against London's 18 bus companies which have individual pay deals with Transport for London (TfL).
The current deals mean salaries vary from £17,000 to £25,000 even if drivers cover the same route.
TfL said it was a matter for the companies and union to discuss.
'Wake-up call'
Unite said the London-wide strike would take place if the bus operators refused to enter "meaningful" talks about creating a single agreement.
It has 28 days to action the strike and said it "can't rule out it happening in the first two weeks of January".
Wayne King, London officer for Unite, said: "This... should be a wake-up call to the capital's bus operators who continue to defend pay inequality.
"Rather than one set of negotiations covering all of London's bus drivers we have 18. It is simply not fair to have drivers doing the same work, driving the same routes at the same time of day, but being paid different rates."
Unite, which represents more than 27,000 bus workers across the 18 companies, said just under 7,000 people had voted in the ballot.
TfL's Director of Buses Mike Weston said: "Bus drivers are employed by private companies and their pay and conditions are a matter for those companies and the union to discuss, as it has been for 20 years.
"We would urge the union not to subject bus passengers to unnecessary disruption."