Metropolitan Police 'needs greater diversity'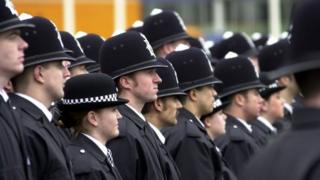 More officers of ethnic origin need to be recruited by the Metropolitan Police to reflect the diversity of London, a report has concluded.
The London Assembly found 11% of officers were from Black, Asian and Minority Ethnic (BAME) backgrounds, compared to 40% of Londoners.
The report also found that BAME women make up less than 3% of the force.
The Met said it was making progress but "radical thinking" was needed.
The assembly's Police and Crime Committee found that less than 6% of the force's BAME officers are ranked inspector or above.
Joanne McCartney, chair of the committee, said: "The Met has made some progress, not just in recruiting a more diverse workforce, but also in ensuring there is better understanding and appreciation of diversity.
"However, as the population becomes ever more diverse, the challenge for the Met to reflect this diversification becomes even greater."
The report also found that BAME candidates applying to join the Met could be disadvantaged, as those who had been subjected to stop and search might not get past the vetting stage.
Currently information about each person stopped and searched is maintained on a database.
However, the London Assembly said the system should specify whether someone was randomly stopped and searched, and whether it led to further criminal action, rather than flagging everyone up.
Those who had taken part in the Met's Voluntary Police Cadets could also be prevented from joining because the "scheme is targeted at young people who might be at risk of criminality".
---
Recommendations from report
Consider implementing a law change if the Met is unable to recruit more BAME officers by 2016
Conduct a review of its flexible working practices
Ensure exit interviews are carried out for all female officers leaving
Identify the barriers preventing women from joining specialist teams
---
The Met has taken some steps to improve its diversity by restricting future applications to London residents only.
It also plans to change the current entrance test to have a lighter emphasis on the written aspect after 2013 data showed that 35% of all applicants were BAME, but this fell to 24% following the written assessment.
The report stated that "while the Met recognises the importance of written skills for police officers... it was just as important" for candidates to demonstrate they can work well with communities.
The report found that many female officers left after the Olympic Games, when the force introduced longer shifts, more night shifts and reduced flexible working hours.
It said more vigorous exit interviews were needed to find out specific reasons for them leaving when BAME women could aid the force's campaigns, including the prevention of female genital mutilation.
In a statement the force said: "We have long recognised the need to make more progress in recruiting, retaining and promoting females and officers from minority backgrounds... and are introducing initiatives to encourage more."
Disabled officers were also highlighted and while the force was good at recruiting, it was "less proactive in supporting officers who become ill" during service.
It was found that their skills could be utilised better rather than just deploying them to "safe" jobs.
Scotland Yard said: "We have seen an increase in BME officers from seven to 11% since 2006 but, as the commissioner has pointed out, if that growth continues at the current rate the representation we seek will not happen in our lifetime or, indeed, this generation, so there needs to be some radical thinking in coming years."