Girl on Heathrow plane 'stopped from flying to Syria conflict'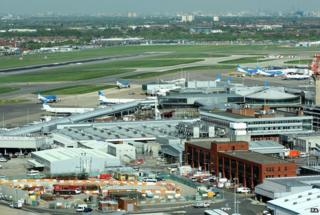 A plane about to take off from Heathrow was stopped over fears a girl on board wanted to join the Syrian conflict.
The 15-year-old from Tower Hamlets had bought an airline ticket to Istanbul in Turkey without her parents knowledge.
The Met said its counter-terrorism team stopped the plane, which was already moving, on 6 December.
It is thought the girl planned to join the Syrian conflict - a civil war between forces loyal to President Bashar al-Assad and those against.
It has so far cost the lives of 200,000 people according to the United Nations.
BBC Home Affairs correspondent June Kelly said the police had acted on a tip-off from the local community that suggested the girl was on that particular flight.
The Evening Standard reported that another girl, also 15, was able to depart before police could intervene.