London's New Year's Eve fireworks tickets sell out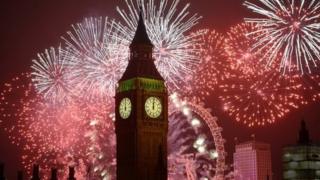 Tickets to see London's New Year's Eve fireworks display have sold out.
Some 100,000 tickets costing £10 each were released for the first time in stages, from September.
Previously, the event was free but its popularity put too much of a strain on transport and safety along the Southbank and Embankment, organisers said.
The display, first staged at the London Eye in 2003 and watched by 100,000 then, rose to about 500,000 last year.
Its increasing popularity meant capacity was often being reached by early evening, leaving hundreds of thousands of people unable to get a good view, with even the early arrivals facing a wait of several hours and cramped conditions.
Visitors have also faced long delays after the close of the event to find their way home on public transport.
But Caroline Pidgeon, leader of the Liberal Democrat London Assembly Group, criticised the ticketing plan, saying the fireworks "should be accessible to all" and warned of "the potential for serious crowd management issues outside the 'pay' zone".
Barriers have been used to form viewing areas for the fireworks in previous years, but for the first time people will be denied entry unless they have a ticket.
The viewing areas are located on Westminster Bridge, on the north embankment of the Thames between Westminster and Waterloo bridges and on the Southbank behind the London Eye.