Kew Gardens secures further funding for 2016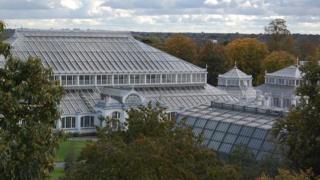 Kew Gardens is set to benefit from a further £2.3m worth of funding, the deputy prime minister has announced.
Nick Clegg said the money had been allocated to support research at the Royal Botanical Gardens until 2016.
Kew director Richard Deverell said it would go "towards managing our journey to a sustainable financial future".
The gardens added it was restructuring its operations and despite the funding announcement 125 jobs would be lost.
In September, Mr Clegg agreed to provide the gardens with £1.5m, to maintain resource funding for 2014/2015.
The extra £2.3m will provide the necessary funding until April 2016 and will enable it to apply for further government loans for projects designed to maximise income.
But Mr Deverell said: "Kew is seeking greater stability in our government funding. An assured long term funding settlement would be invaluable for effective planning."
Kew Gardens in south-west London currently employs more than 700 people.
Mr Clegg said: "Kew is so much more than a garden and green space, its reputation as a botanical research base and centre for science is world-renowned.
"Balancing the books in this country has meant budgets are tight, but I'm delighted to be able to commit continued funding for Kew as both a leading research hub and beautiful tourist attraction."
Conservative MP for Richmond Park Zac Goldsmith, said Kew was "more important than ever" and "yet we have chosen this moment in our history to jeopardise" its future.