Drone flown 20ft from landing Heathrow jet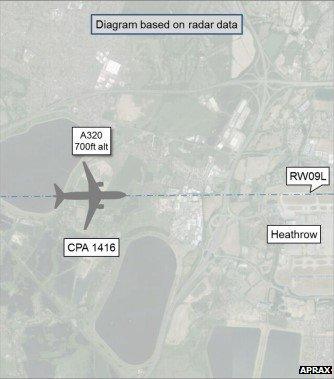 The moment a device believed to have been a drone came within 20ft (6m) of a plane landing at Heathrow Airport has been described in a report by an air safety body.
The Airbus A320 was at 700ft (213m) when its pilot saw a small black object near the aircraft, the UK Airprox (aircraft proximity) Board (UKAB) said.
The report does not identify the airline or where the plane was arriving from.
The drone operator could not be traced.
The object "passed about 20ft over the wing" and appeared to be a small radio-controlled helicopter, the report said.
It did not strike the plane and the pilot was able to make a normal landing, at 14:16 BST on July 22.
"It was a distraction during a critical phase of flight," the report added.
Air traffic controllers were told of the incident and the aircraft behind were notified.
The UKAB said: "Despite extensive tracing action and the proactive assistance of local model flying club members, it was not possible to trace the operator of the model aircraft in question."
It said in summary: "The board members were satisfied that the A320 crew had seen a model helicopter and were of the unanimous opinion that the operator of the model had chosen to fly it in an entirely inappropriate location.
"That the dangers associated with flying such a model in close proximity to a commercial air transport aircraft in the final stages of landing were not self-evident was a cause for considerable concern."
A Heathrow spokesman said the "unauthorised use of unmanned aerial vehicles in proximity to an airfield is both irresponsible and illegal".
He said that Heathrow pursued prosecution for violation of airspace.
In October, Birmingham University warned the use of drones in the UK would rise over the next 20 years, raising "significant safety, security, and privacy concerns".
Related Internet Links
The BBC is not responsible for the content of external sites.