Jewish MP Lee Scott says he has received death threats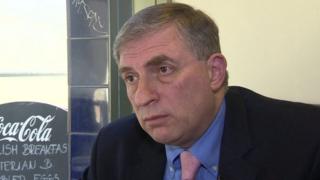 A Jewish MP says he has received death threats because of his religion.
Lee Scott, the Conservative MP for Ilford North, said he has had five death threats in the last year.
Both he and his wife check their cars every day and he no longer runs a drop-in surgery meaning his constituents must make appointments.
The MP said the abuse against him started at the last election when he was called a dirty pig by two people who said they were going to kill him.
"Whenever I'm scared, I've always since I was a child used humour and I said to them 'shall I put you down as a possible or have you not decided how you're voting'?
"I realised how stupid I was, and ran as fast as my little legs could carry me," he told BBC London 94.9's Vanessa Feltz.
Mr Scott added that when he got home, he cried - something he rarely has ever done.
"The people who tell you they're going to do something to you, will very rarely do it. It's people who aren't going to tell you that you've got to worry about."
'No reason to kill me'
During a debate on anti-Semitism in Parliament on Tuesday, the MP revealed details of a phone call in which he was told he should be "stoned to death".
Speaking to BBC London, he added: "Being Jewish is my religion, that's the end of it. I was born a Jew, and that's what I've chosen to practise.
"I would never enforce my religious beliefs on anyone so why should I have that for just my religion?
"I do the best job that I can to the best of my abilities. Some will like me other won't, some will like my party others won't, but whether they like me or not, it's not a reason to try and kill me."
Mr Scott said his constituents have told him they were more concerned about anti-Semitism and that more anti-Semitic incidents were happening. He urged people to report any incidents so that it showed on statistics.
According to the Met's website, the number of anti-Semitic reports has increased by 92% from 167 from October 2012-13, to 322 from October 2013-14.
"If someone does do something and it's not reported then it simply hasn't happened.
"Then when the authorities want to tackle something, they'll say 'this is what the figures are and what they show' so it is important that they report it."