Owners of empty homes in Islington could face jail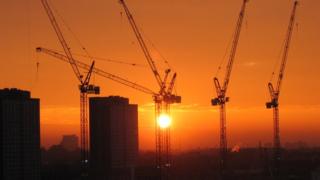 Owners of empty properties in a north London borough could face fines, or even prison under new proposals.
Islington Council wants to halt the rise of new homes sold as investments and left empty - so-called "buy-to-leave" properties.
A third or more of homes in some new developments are "potentially vacant", according to the council.
But critics warn that it is difficult to know why properties are empty.
Under the proposals, new homes could not be left unoccupied or unused for longer than three months and would have to be occupied for at least 14 days in any three-month period.
'London housing crisis'
Any property unoccupied for more than three months would be subject to legal action such as seeking an injunction from the High Court against the owner, the Labour-controlled council has said.
James Murray, the council's executive member for housing and development, said the proposals were the first of their type in the UK.
Persistently breaking the injunction could lead to a fine, seizure of the empty property or prison.
But Mr Murray said punishment for keeping properties empty would be down to a judge to decided.
He told BBC Radio 4's Today programme: "Where this starts is with the principle that we have a housing crisis in London and we desperately need more homes.
"A lot of these empty houses are new properties that are going up in flashy towers with concierges at the front desks and its very hard to get accurate data of what is going on inside."
Mr Murray said the council wanted to shift the burden of proof to the owner of a property that is suspected of being empty.
Property owners would be asked to prove otherwise with documentation such a utility bills.
'Not easy'
But Robert Jones, director of Property Investments UK, warned the plans will not be easy to police.
He said: "There's a whole host of reasons why a property might be empty - not just overseas investors - it might be empty due to refurbishment or probate, it could be due to ill health."
Mr Jones added that it would be very difficult to implement and that leaving a property empty does not always make sense, as owners would want to utilise the flat as a rental property.
The new planning proposals - which Mr Murray believes can be achieved under existing legalisation - would not affect existing homes, but would be applied to new properties.
Consultation on the proposal launches on 8 December and runs until 30 January 2015.