Tube staff moved from ticket offices in February 2015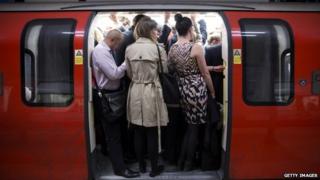 Staff will be moved from London Underground ticket offices into other roles from February as part of modernisation plans, Transport for London (TfL) has announced.
TfL wants to move staff from "underused" ticket offices on to platforms and elsewhere in stations.
The changes have led to strikes by the Aslef and RMT unions.
Originally, 953 jobs were to go under TfL's plans but that figure has now been reduced to 897 after talks.
TfL said it expected the number of job cuts would fall further as a result of continued negotiations.
In October, a planned 48-hour workers' strike was suspended following discussions between unions and TfL.
TfL has said it needs to save £4.2bn by 2020.